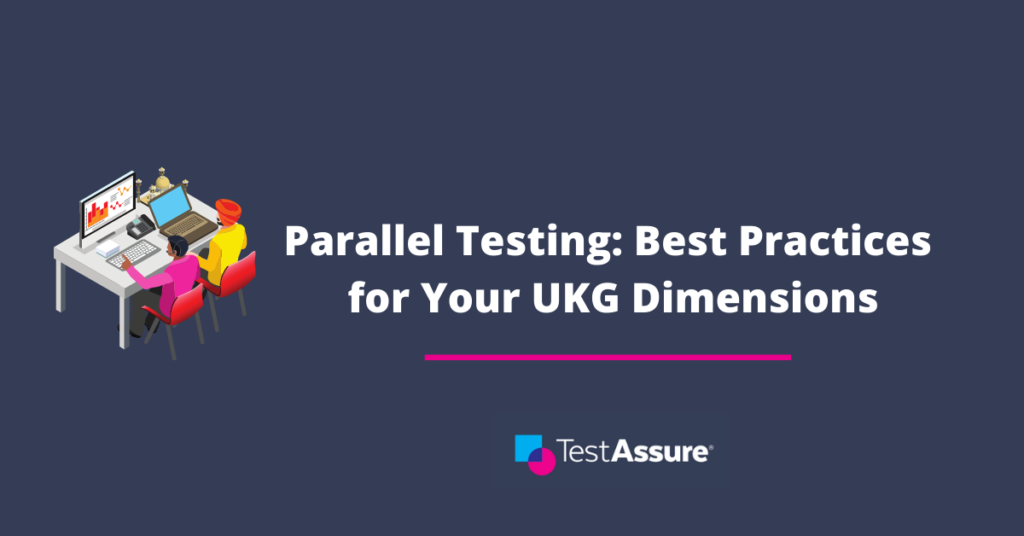 In our previous article, we introduced the five types of testing that every UKG customer should know. Each of these UKG testing types plays a vital role in an effective quality assurance program for your workforce management (WFM) initiative.
In this article, we'll provide high-level guidance and best practices on parallel testing.
What is Parallel Testing?
Parallel testing serves an essential purpose for your entire organization. It helps to build confidence in a new system upgrade or feature release by identifying and accounting for the behavioral differences between two new versions of the software.
Being able to explain those differences, assess your organization's impacts, and gain buy-in from key customer subject matter experts (SMEs) is vital to secure a smooth go-live. 
How to Approach UKG Parallel Testing
Your project team should perform most of the preparation and documentation for parallel testing. However, your SMEs should have a high degree of input when determining the scope of the parallel testing and should be held accountable for the results and analysis of each test case. This often requires a case-by-case walk-through with the SMEs to convince them that each difference is legitimate.
But which SMEs should participate in this process? We suggest:
Payroll – can provide real-world test scenarios, help define the appropriate depth or scope of the testing, and understand and validate any variances in this area.
Human Resources – can help you understand the impact on employees and communicate those changes to the field staff.
Operations – can approve any changes to scheduling or labor demand.
Finance – can help you understand any budgetary impacts or profit and loss reporting changes.
An efficient parallel testing process requires a stable QA environment where the business rules have been tested and verified. It also requires functional interfaces that can import real-world data. With this in mind, perform parallel testing after at least two passes of functional and integration testing.
And then, you can perform parallel testing in the QA environment with data loaded from production.
Our recommended approach entails running real-world data from production into a test instance for a select subset of employees. You can then compare the results between two systems or versions.
For every difference, you must identify the reason behind the change and note the requirement or policy variance responsible. All of these differences and explanations are reviewed and approved with the relevant SMEs.
Key Activities of UKG Parallel Testing
1. Test Planning
The first step is to define which system modules will be subject to parallel testing. For example, this could include timekeeping/payroll, forecasting, or scheduling. Identify which SME will review these parallel test results and determine when they will need to be available.
As part of this process, you should identify the employees and historical data selected for review. For example, if you're conducting a payroll parallel test, pick a week with a holiday and one without to review.
2. Test Execution
To execute the test, pull the selected pay period payroll data, forecasts, or schedules from the legacy solution. Import the extracted data into the parallel test environment.
Note that this could require manual manipulation of the file if the employee data in the  QA environment is masked or varies significantly from production. Check your organization's policy on using personally identifiable information (PII) in QA environments.
When running parallel test scenarios for each pay, policy, or schedule period, you should conduct a careful comparison of the test versus production outputs for each employee and each day in the selection periods.
You'll need to carefully identify the reason for each difference i.e. is this caused by a requirement or policy change? You can then review each difference with the relevant SME who will ultimately sign off on the final results.
UKG Parallel Testing Deliverables
At the end of this process, your organization will have documented results with detailed notes documenting the reason for each difference. This will include a test execution status report and consolidated feedback from your SMEs.
UKG Parallel Testing Best Practices
We'd recommend giving careful consideration to the selection of the subset of employees. Here are some pointers to help this process:
Select at least one entire department
Select additional employees based on a thorough understanding of the areas of greatest variance
Don't pick the easiest test cases; ensure you select some employees from your more complex and varied locations, geographies, unions, etc.
With careful consideration of the employees you choose, you should be able to thoroughly complete parallel testing by analyzing 50 to 80 employees.
Pro Tip/Recommendation: When selecting historical data, consider weeks with and without a holiday.
Conclusion
As we outlined in the five types of testing that every UKG customer should know, parallel testing provides your key stakeholders with an in-depth look at real-world outcomes and the impact of the rollout on your business.
Careful planning of parallel testing is critical to ensure that the most vital real-world scenarios are verified by organizational SMEs so that any policy or procedural changes are fully understood.
We can help if you're implementing a new UKG workforce management system, upgrading to a new version, or releasing business-driven changes.  
TestAssure is committed to providing UKG customers with test strategy, planning, and automation to help you minimize the impact of your system changes, reduce your risks, and help you move faster with confidence.   
Contact us today for a test drive.