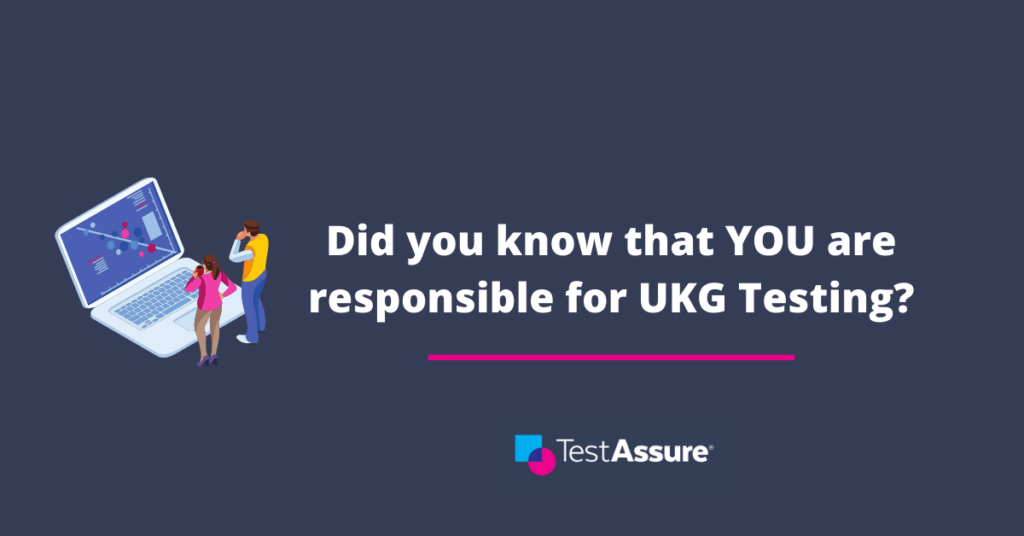 Implementing a UKG workforce management (WFM) system such as UKG Dimensions is a considerable effort that has a broad impact throughout an organization. 
UKG customers are often overwhelmed by all the work on their plate and often don't realize that testing is THEIR responsibility until it is too late. 
This realization often results in those customers having to cut testing short to meet a timeline or a budget. Unfortunately, this can negatively impact employees, field operators, and even HR and payroll departments.
It's important to realize that not only are YOU the one responsible for testing for your UKG WFM, but that you are also uniquely positioned to validate your solution. 
On the flip side, you are also the one accountable for a smooth deployment – and you will suffer if any issues arise. 
This article will explain why you hold the responsibility for testing your UKG WFM system and how it could disrupt your organization if you don't plan for adequate testing.
1. UKG Tests UKG: Why YOU Are Responsible For Validating Your System Configuration
UKG tests the 'core' software, but that does not include the unique configurations and process flows that make the software work for your business. 
Specifically, the following parts of the application must be validated to ensure they are functioning and integrated correctly in your environment:
1) Client-specific configuration
Legislative rules and interpretations
Company policies
Custom feature sets, reporting, and security
2) Data imports and exports
Data accuracy
Timeliness of data
Data security
3) Support of business process flows
4) Large and complex data migrations
"I'm often asked 'why do you test a cloud app?' I mean a lot of companies are using the application. It's more than only having an application running. You're talking about having a Lufthansa-specific configuration with our own business rules implemented within our HR processes. We have workflows up and running, management services, and employee self-services."

Beatrix Kirst, the Program Lead for HR IT Renewal of Lufthansa Group
Post-implementation, it will be your responsibility to continue to validate changes to your WFM system to support the ever-changing needs of the business without negatively impacting your employees and existing functionality.  The ability to do so quickly and with confidence is more important than ever.  This need for ongoing testing is driven by:
1) UKG updates at regular intervals
Two UKG WFD major "R-Releases" annually
Monthly minor releases
Even weekly maintenance updates
2) Frequent legislative and policy changes that require rapid production release
2. Not Testing Your UKG System Properly Negatively Impacts Employees, HR, and Payroll
The reality is that your UKG WFM system is heavily used to support day-to-day business operations. A single defect can impact hundreds, if not thousands of employees. If this happens, each employee's concerns must be addressed, managed, and corrected. 
System issues result in a ripple-in-the-pond effect that impacts multiple end-users throughout the organization. Failing to test correctly can lead to hundreds of incidents that will need to be researched and corrected.
Even one single defect can have a huge negative impact on your organization and operations: 
1) Employees
For employees, fair, accurate, and timely remuneration is one key component of the employer/worker contract, so it's critical to get this right. If there's a glitch in your UKG WFM system, it could affect pay, leave, accruals, and attendance balances as well as the times your employees are scheduled to work.
It's no wonder your employees will immediately notice and escalate the issue. This creates an increased administrative burden, taking employees and managers away from crucial tasks, reducing efficiency, and eroding overall confidence. This could cost the organization in employee retention and overall worker engagement.
2) Field Operations
Your managers and field HR personnel are on the front lines. They will need to respond to employee questions and concerns by helping address incorrect timesheets, leaves, accruals, balances, and schedules. This is valuable time that takes them away from servicing customers, patients, filling work orders, and more. There is a corresponding drop in productivity that costs the company money.
3) HR and Payroll
Your employees will notice issues with their pay, leave, and accruals immediately, which results in increased calls and incident tickets that will need to be addressed by your support, HR, and payroll teams. This also has a clear financial impact to the organization.
4) Financial Reporting
Depending on the severity of the issues, day-to-day operations such as financial reporting can be incorrect. This can create friction throughout the organization.
There are also myriad ways these internal disruptions can spill out into the public and affect your organization in a very negative and damaging way.
But there is one thing you can do to mitigate risk—and that is to test your UKG WFM solution before any change is moved to production.
Conclusion
Testing is a critical aspect of your UKG Dimensions WFM system implementation. Failing to perform sufficient testing could lead to significant negative consequences for your organization's day-to-day operations for which you are ultimately accountable.  
Failure to adequately prepare for the testing phase of your initiative may also negatively impact your project timelines and budget (for which you are also ultimately accountable).
One proven strategy for protecting the organization (and yourself!) from these risks is to create a structured testing approach for your workforce management initiative.  
A structured testing plan ensures that you have: 
A clearly defined scope of testing
Established test writing and test execution timelines
Secured the availability of QA resources and business subject matter experts (SMEs)
Identified hardware and software for testing, automation, and defect management
Whether you're implementing a new UKG workforce management system, upgrading to a new version, or releasing business-driven changes, we can help.
TestAssure is committed to providing UKG customers with test strategy, planning, and automation to help you minimize the impact of your system changes, reduce your risks, and help you move faster with confidence. 
Contact us today for a test drive.