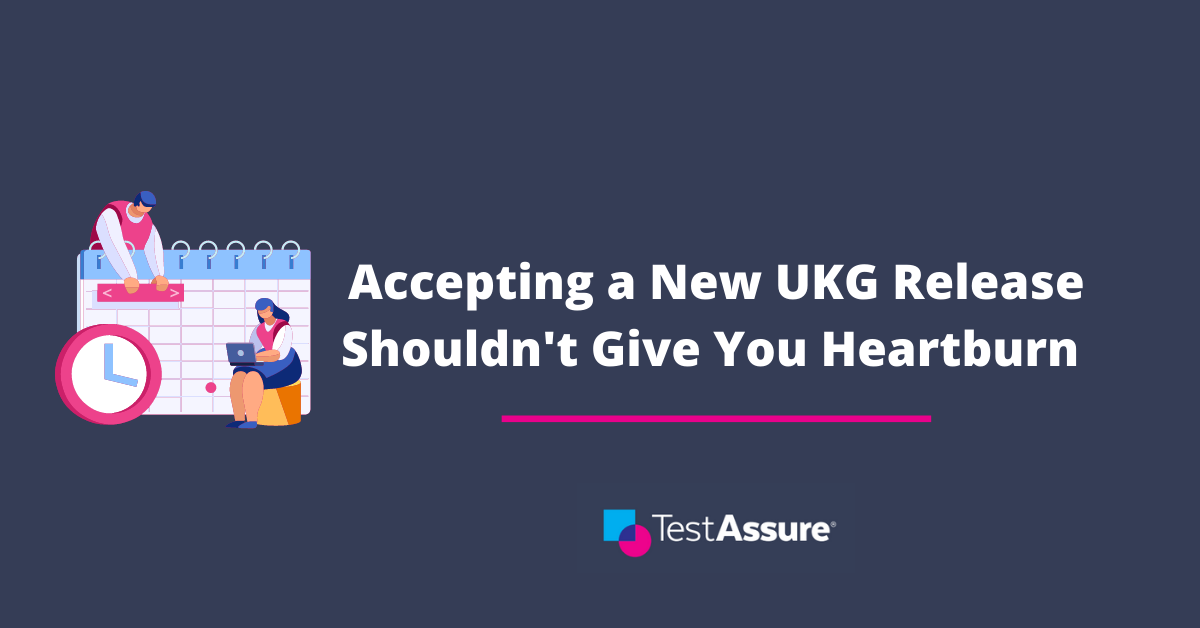 Major releases can be a source of anxiety for many customers who are already live.  Every UKG Dimensions release is chock-full of new and valuable features. But making changes to your system creates risks and can impact existing functionality. It's YOUR responsibility to ensure that each new release doesn't negatively impact your business and your employees. 
In this article, you'll learn how to identify employee pay issues before they reach your production environment.
The 4 Keys to Successful Release Testing 
The UKG Early Access experience is the perfect opportunity for YOU to validate your solution and identify any defects before they reach your employees.
The following 4 steps will help you maximize this opportunity, reduce your manual testing effort and build more confidence in every UKG release or change to your production environment.
1. Understand Your Release Timeline & Early Access Window 
The new Early Access experience provides you with a defined window to validate the release and ensure that you continue to pay your employees correctly. 
You will need to test your unique configuration and setup thoroughly.  UKG provides you with the instance and timeline, but how and what you test is your responsibility.
UKG will deliver the new release to your non-production (NPR) tenant approximately four weeks before general availability in production (PRD).
Your UKG Trust Site will list the date for delivery of the new release to your NPR tenant as well as the date that the release will be applied to your PRD environment.
Ensure your team has access to your UKG Trust Site and that alerts are enabled so you receive accurate and timely updates. If you haven't done so, please register ASAP.
PRO TIP: You will need to request a data refresh from your PRD to your NPR environment (if required). Unless you have in-flight projects in your NPR tenant, we recommend you request this refresh to ensure you are testing the latest configuration from your PRD instance.
2. Define Your Scope for Testing 
With a clear understanding of your Early Access window and PRD release dates, you must also have a clearly defined plan and approach for testing.
Review the UKG Release Notes: Carefully review the Release Notes provided by UKG to understand the changes and/or enhancements that are part of the upcoming release.
Define the scope of what needs to be tested: Identify the critical areas of your application that the release will directly or indirectly impact. We recommend paying particular attention to the Timekeeping and Accruals entitlements since these directly affect your employee's pay. 
Secure time and availability of key resources: Once you're aware of your Early Access window, you must secure the time and availability of all the team members who will participate in testing. Also, make sure to communicate timelines and responsibilities as soon as possible to the identified team members.
Write tests (if necessary): Be sure to allocate time for resources to understand the scope of testing and write any new tests if required. Document and store these tests for re-use.
Run tests and address the issues: Execute the identified tests and document the results. Be sure to leave time to address any issues found with UKG.
3. Create a Repeatable Process 
A big benefit of cloud software like UKG Dimensions is that it accelerates your organization's ability to adapt to change. But delivering incremental business value quickly and efficiently requires a repeatable process for making production changes with confidence. The best repeatable process is known as "continuous testing", where you create and run regression tests before making any changes to your production environment.
You must always be prepared to test because change can come at any time i.e., you don't control the timing of the Early Access window. The keys to successful continuous testing are to:
Document step-by-step instructions for every test case, with clearly identifiable employees and defined expected results, so your team can complete testing even if your SMEs are unavailable.
Store and organize all tests so you can identify, update, execute and re-use them as needed. You should also document test results and update those results with every system change.
The critical point here is not to rely on a single person or a small number of subject matter experts who "have it all in their head" on how to test correctly.
4. Consider Test Automation 
The key benefits of doing continuous testing are that you can:
Respond to Business & Policy Changes Faster: Respond quickly to ever-changing policies, labor laws, and business-driven changes.
Easily Accept UKG Releases & Updates: Accept releases and updates without disruption and take advantage of new functionality.
Make WFM changes with confidence: Be confident that you're continuing to pay your people correctly and are still in compliance.
But doing regression testing with every production release can be a lot of manual work. But it's the only way to be sure you continue to pay your employees correctly. Fortunately, test automation software removes the burden of repeated manual testing and enables you to do automated continuous testing.TestAssure.ai provides features to help you efficiently enable automated continuous testing:
Test Case Library & Pre-Built Automations: Use our library and automations to quickly and easily set up regression tests (no coding needed).
Maintains Your Automations for You: We constantly maintain your automations with each and every UKG release or update.
Runs Your Automated Test Cases Regularly: We run your test cases every month so they're always ready for you at the click of a button.
Provides Automated Monitoring & Alerts: We run and monitor your automated testing for you, so you only need to respond to issues.
Summary
Accepting UKG Dimensions releases can seem daunting, but it doesn't have to be. With the right planning, processes, and technology, you can have the peace of mind to deploy new releases and updates to your production environment with confidence.
Download our TestAssure.ai one-sheet to learn more about automated continuous testing